Located along the scenic rolling hills (near Charles Mill Reservoir) or between Mansfield and Ashland.
Oak Park is Richland County's Oldest Dining/Supper Club, Serving Great Food Since 1940.
We have operated under same ownership for over 25 years.
Famous for our Lake Erie Yellow Perch always fresh.
We cut our own steaks and prepare everything fresh to order in our open kitchen, watch us prepare your meal from the bar.
Reservations Accepted and walk-ins always welcome.

Lunch specials daily Tuesday-Friday

Gift Certificates Available
Full service Bar with Old fashioned Cocktails.
Large selection of Beers Including Domestic, Micro-Brews and Imports.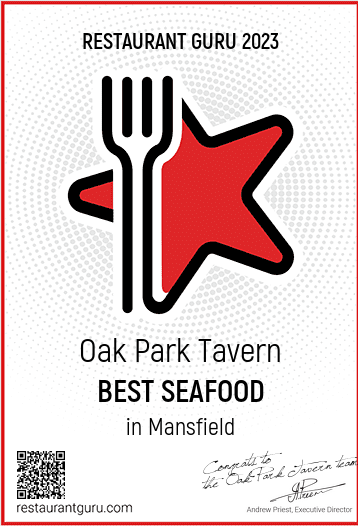 Oak Park Tavern has been selected as
the best seafood restaurant in Mansfield, Ohio
came to visit and enjoy our
HAVE ANY QUESTIONS?

We are always here to answer any questions you may have
We love our customers!  Here is what they have to say…
Ate dinner out on the patio. Great atmosphere. Great service and the food was very good. We always make it a special stop when family from out of town come to visit. The perch is awesome and the steaks are melt in your mouth good.
-Gina M
Customer
It was a big surprise… in the middle of nowhere such a nice and very good place with excellent meals and service…
-Alain B
Customer
I've been driving past for years and always say I should stop, I finally pulled the trigger last night and stopped. I loved the combined casual dress and fine steakhouse atmosphere. I wish I could comment on the taste of the steak, but I went light (for me) and had the Calamari appetizer with the spinach salad with bacon dressing. My friend had a steak and raved about it, so I'll go along with that. I certainly intend on returning.
-Troy G
Customer